Horus, custom photo/video specialist since 1986.
A specific project that requires modifications or even the creation of custom equipment ? Please contact us.
Video quality, miniaturization, waterproofing and maximum ergonomics are common features of all our equipment.
Find our different products: Timelapse, embedded cameras, hidden cameras for hidden cameras and accessories.
100% secure payment
Payment by credit card is completely secure. The data exchanged during the transaction is encrypted by SSL certificate issued by GeoTrust.
Customer service
You can reach us on 03 44 60 04 10 or by email at contact@horus-video.com
Installation of our Timelapse box Lapics at the SMDO
The SMDO is the most efficient sorting centre in France. Three time lapse boxes Lapics made it possible to carry out an optimal construction follow-up and thus obtain a time-lapse sequence integrated into the Vic Production assembly visible here ->
Horus has developed a complete solution for taking pictures in "timelapse" mode called Lapics.
This autonomous time-lapse system thanks to its photovoltaic panel is made for you and adapts to all your projects: construction / demolition of buildings, houses, wind turbines, construction sites... Do you love science and are passionate about plant growth, the evolution of a glacier or a river? By using Lapics, you can follow this evolution from a distance and make a fun and informative video montage.
Our time lapse system is used by the largest groups such as: Vinci Construction, Louis Vuitton, Total, Eiffage Construction, Bouygues Construction, Carrefour, Lidl, Groupe ADP, Le Grand Paris, Leon Grosse, SMDO, SNCF, SPIE...
Hidden cameras
Horus has been manufacturing equipment for hidden cameras for more than 20 years. Our button cameras are very discreet to be worn when under investigation. We have developed a system called Jicam with an autonomy of more than 8 hours in recording. All this with a wifi connection allowing you to have a video feedback directly on your smartphone. Our HD button cameras allow you to turn a simple button into a true, perfectly hidden Full HD camera.
Horus works with many television channels and production companies: TF1, M6, Canal+, France télévisions... Our cameras are used for programs such as: "Cash Investigation", "Envoyé Spécial", "Complément d'Enquête", "Enquête Exclusive",...
Our cameras can be custom made and adapted to your project. It is a high quality material that allows a perfect realization of your shootings.
On-board cameras / Supports and fasteners
Horus is a custom manufacturer of cameras, accessories, mounts.
We are proud to have designed and manufactured the materials for the programs "J'irai dormir chez vous" and "Nus et Culottés".
All your projects can be realized with our cameras!
Send us your specifications and we will send you a quote...
An on-board camera or action camera is a video camera designed to record the action while being immersed in it. Embedded cameras are therefore generally compact and robust, and equipped with a waterproof housing. They can record HD or 4K videos.
An on-board camera is designed to require minimal interaction when recording has started. This allows for continuous capture without intervention.
Action cameras are associated with outdoor sports and are often attached to helmets, surfboards or handlebars. Embedded cameras have become extremely trendy and are an integral part of many extreme sports such as base jump and wingsuit flying. Sometimes, several cameras are used to capture different views, such as a helmet camera that sees the actor's perspective in combination with a second camera attached to the pilot's environment, such as a board, wing, handlebar or wrist, which has a rear viewpoint on the pilot.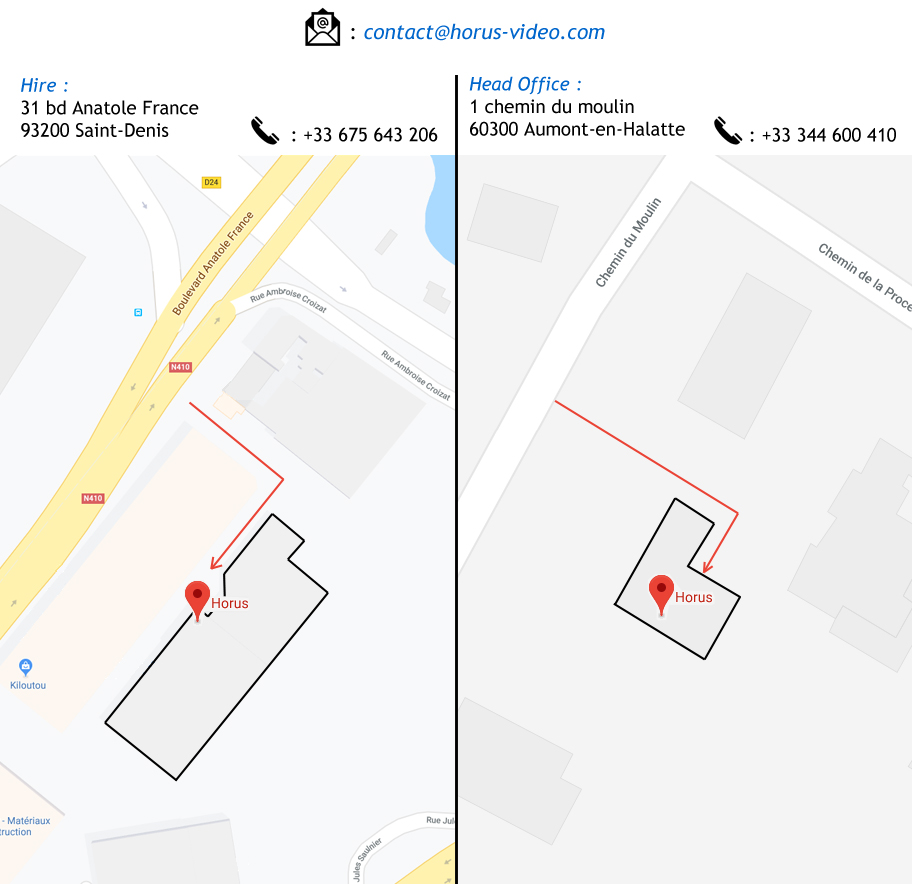 Contact us for more information
You want to realize a very particular project? Contact us for a personalized quote.